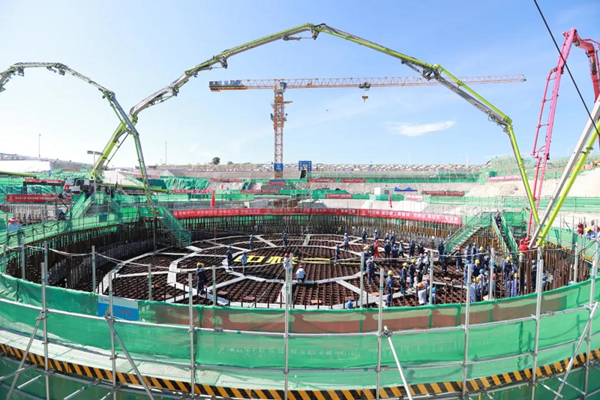 ČVN
14
ACP100 the first commercial modular reactor is under construction
China National Nuclear Corporation (CNNC)'s multi-purpose small modular reactor (SMR) demonstration project began construction at Changjiang Nuclear Power Plant in South China's Hainan Province on July 13. This project became the world's first commercial onshore SMR
ACP100 Design
The ACP100 small modular reactor in Changjiang, Hainan Province is a multi-purpose pressurized water reactor. Also known as Linglong One. SMR is designed especially for electricity generation, heating, steam generation or seawater desalination. Among other things, it can serve as a stand-alone energy source for industrial parks, islands, mining areas and energy-intensive businesses.
Each Linglong One has an electrical output of 125 MWe. Its estimated annual production is 1 billion kilowatt hours (kWh)meeting the energy demands of 526,000 households. Therefore, the Linglong One can significantly reduce fossil energy consumption and emissions.
The design comes from its bigger pressurized brother ACP1000. The ACP100 has 57 fuel assemblies. It has integrated steam generators. Main components of its primary cooling circuit are part of the reactor pressure vessel. Reactor contains passive safety elements. Whole structure will be underground.
History
The project is under development since 2010.
The ACP100 integrated PWR's preliminary design was completed in 2014.
In 2016, the design became the first SMR to pass a safety review by the International Atomic Energy Agency. Consequently,  China announced plans to build a demonstration floating nuclear power plant based on the ACP100S variant of the CNNC designin 2016. Finally, the CNNC the launch of a project to construct an ACP100 reactor at Changjiang has been announced in July 2019.
The demonstration ACP100 plant is located on the north-west side of the existing Changjiang nuclear power plant, nevertheless, the Hualong site is already under construction of two CNP600 PWRs. Finally, the construction of the first of two Hualong One units began in March this year. Both both units are due to enter commercial operation by the end of 2026.